Introducing the multilingual newsletter from the Oita International Plaza by email.
Oita International Plaza's Free Messaging Service OIPM
Register to receive news on the Oita International Plaza's events, tips to living in the prefecture, and information on disaster-preparedness.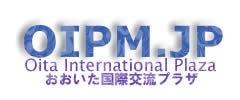 How to register
The registration process is simple and can be performed by any mobile or smartphone that can receive messages.
Please be aware that while registration is free-of-charge, your carrier may charge you for subsequent messages.
① Send a blank message to one of the addresses listed below
② Follow the instructions stated in the subsequent reply
③ Et voila,  you've completed the registration process!
*Registration is free-of-charge
Registration addresses
| | |
| --- | --- |
| Japanese | |
| Yasashii Nihongo ('Simple Japanese') | |
| English | |
| Chinese | |
QR code


This service was created with the support of the Japan Center for Local Autonomy's (Jichi Sogo Sentaa)