An introduction to the Oita International Plaza's Community Space
Exhibitions
The Oita International Plaza holds gallery exhibitions for individuals and groups that conduct international exchange activities or support the plaza's efforts.
We have so far introduced multiple personal and group exhibitions, books, illustrations, as well countries around the world that have links with Japan.
Please make an application to us if you wish to inform others about your work.
To apply, download the attached form, fill in the required fields, and send it to us via fax or email.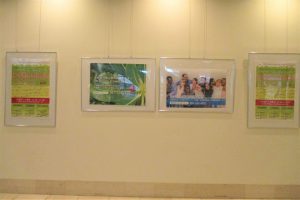 | | |
| --- | --- |
| Duration of single exhibition | 1 month |
| Exhibition fee | Free |
※The plaza will not be responsible for any discord resulting from the contents of the displayed work.
Community Space
Information concerning daily life
We have compiled useful information on everyday life, healthcare services and other topics related to Oita Prefecture.
Find below further details on information concerning daily life:
Multilingual living information
International exchange and information on countries around the world
The plaza publishes information on international exchange activities and facts from countries around the world.
Information on study-abroad and language proficiency tests
We have compiled a collection of information on study-abroad and language proficiency tests.
Other information
The facility holds a collection of past publications by the Oita International Plaza, as well as various news articles.