News from the Oita International Plaza
16-10 15:20 2014 
"Oita International Festa 2014″
On Sunday Oct. 26th from 11am to 4pm in the iichiko Culture Center 1F, we will be holding the "Oita Int'l Festa '14″ which is a big event this year!
There will be cultural stage performances, cultural games, a fashion show, snacks and drinks from around the world, a national-costume fitting corner and traditional Japanese arts corner (tea ceremony, flower arranging, etc.)!
This will be a fun event for all ages!
16-10 15:16 2014 
Event Info: "Happy Talk"
"Happy Talk" is an event held at the OIP.
Come practice speaking Japanese with other learners and native speakers.
Next event will be held on Saturday Nov. 8th, 1pm-2:30pm.
Participation fee & reservations are NOT necessary!!
Please bring your own drink if you like.
For more details please refer to the facebook

*Oita International Plaza is NOT a sponsor of this event.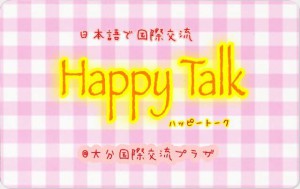 16-10 13:18 2014 
Event Info: "Human Festa 2014 Oita"
"Human Festa 2014 Oita" will be held from 10am to 5pm on Sunday November 2nd at Galleria Takemachi Hiroba.
We will have exhibition booths "Considering the Human Rights of International Residents".
And West African "Djembe" drumming performances will be performed on the stage from 12:50pm!
Please come♪