News from the Oita International Plaza
31-08 17:53 2016 
Free Regular Consultations (September)
Oita International Plaza offer FREE consultations for international residents of Oita Prefecture.
◆Tagalog Consultation: 1pm-4pm on Saturday September 3rd, Tuesday September 20th
◆Chinese Consultation: Every Thursday 10am-1pm(Except for September 22nd)
◆Proceedings of Immigration, Residency and Citizenship Consultation:1pm-4pm on Sunday September 4th
◆Legal Consultation: 1pm-4pm on Wednesday September 21st
*Interpretation into languages other than Japanese and English may be available with a reservation at least 2 days prior to the consulting day (there are no guarantees).
—Oita International Plaza—
10-08 09:30 2016 
UPDATE: This Month's Happy Talk is Cancelled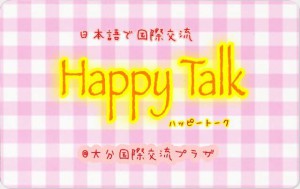 "Happy Talk" is an event held at the OIP.
Unfortunately, due to circumstances beyond our control, Happy Talk will be canceled this month (August). 
The specific date and time of the next event will be announced soon!
Come learn more about other cultures and practice speaking Japanese with other learners and native speakers.
It's OK if you don't speak Japanese fluently♪
Participation fee & reservations are NOT necessary!!
For more details please refer to the Facebook

*Oita International Plaza is NOT a sponsor of this event.
14-07 18:05 2016 
2016 Translating and Interpreting Volunteers Skill Up Workshop -Natural Disasters-
Currently there are 95 registered interpretation and translation volunteers at the Oita International Plaza(speaking a total of 13 languages), and 38 registered Japanese volunteers.
In July, we held a Skill Up Workshop for them.
For our first workshop this year, our lecturer was Atsuko Sugimoto, who is an "Simple Japanese" volunteer and who taught our workshop participants how to use simple Japanese to support foreigners in Japan during times of crisis.
The event took place on 2nd July from 14:00 to 16:50, in a meeting room on the fourth floor of the iichiko Culture Center.
Durig the Work Shop, everyone split into six groups, each group with a mix of Japanese and foreign group members.
They studied large hazard maps laid out on each table, and worked out which emergency shelters people should go to a disaster happen, and so on.
20-05 11:57 2016 
♪Contributing to the TOMBO♪
As many of you may be aware, the Oita International Plaza produces an English language newsletter called the TOMBO.
We are always looking for ways to make the TOMBO a better newsletter. If you have any ideas for topics about Oita that you would like us to write about, or if you are interested in writing an article to be featured in the TOMBO, please get in contact with us.
Suitable topics would include articles on events and places  in Oita, articles about traditional culture or history in Oita, and so on.
If you are scratching your head for ideas, please feel free to look at the archive issues of the TOMBO online(http://www.oitaplaza.jp/english/rp) or at the Oita International Plaza. Articles must be in English.
If you think you would be interested in possibly writing for the TOMBO, please get in contact with the editor
at: miriam@emo.or.jp
02-05 10:00 2016 
App for International residents and tourists
'Safety tips' provides you with Earthquake Early Warning and Tsunami Warning, as well as other useful features that can help you in the event of a disaster. Please download it if you are interested in it!!