News from the Oita International Plaza
28-05 10:20 2015 
Free Regular Consultations (June)
Oita International Plaza offer FREE consultations for international residents of Oita Prefecture.
◆Chinese Consultation: Every Thursday 10am-1pm
◆Tagalog Consultation: 1pm-4pm on Saturday June 6th and Tuesday June 16th
*Legal Consultation: 1pm-4pm on Sunday June 7th and Wednesday June 17th
*Interpretation into languages other than Japanese and English may be available with a reservation at least 2 days prior to the consulting day (there are no guarantees).
—Oita International Plaza—
☎097-533-4021   ✉s_watanabe@emo.or.jp
09-05 13:00 2015 
Event Info: "Happy Talk"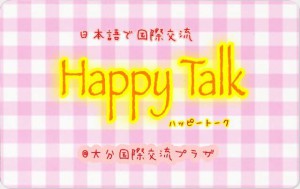 "Happy Talk" is an event held at the OIP.
Next event will be held on Saturday, June 20th 1pm-2:30pm.
Come practice speaking Japanese with other learners and native speakers.
Participation fee & reservations are NOT necessary!!
For more details please refer to the facebook

*Oita International Plaza is NOT a sponsor of this event.
01-04 13:24 2015 
【入国管理局からのお知らせ】特別永住者・中長期在留者の方へ
「特別永住者証明書」または「在留カード」への切替はお済みですか?
まだ『外国人登録証明書』をお持ちの特別永住者の方は、今年(2015年)の7月8日までに「特別永住者証明書」に切り替える必要があります。