News from the Oita International Plaza
20-12 14:30 2014 
Event Info: "Happy Talk"
"Happy Talk" is an event held at the OIP.
Come practice speaking Japanese with other learners and native speakers.
Next event will be held on Saturday, January 24th 1pm-2:30pm.
Participation fee & reservations are NOT necessary!!
Please bring your own drink if you like.
For more details please refer to the facebook

*Oita International Plaza is NOT a sponsor of this event.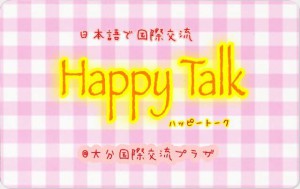 27-11 09:36 2014 
November-December 2014 THE TOMBO
The November – December 2014 edition of THE TOMBO is HERE!
To access past issues click HERE! 
27-11 08:36 2014 
Free Regular Consultations (December)
Oita International Plaza offer FREE consultations for international residents of Oita Prefecture.
◆Chinese Consultations: Every Thursday 10am-1pm
◆Tagalog Consultations: 1pm-4pm on Sat. DEC. 6 and Tue. DEC. 16
*Legal Consultations: 1pm-4pm on Sun. DEC. 7 and Wed. DEC. 17

*Health Consultations: 2:30pm-3:30pm on Tue. DEC. 16
*Interpretation into languages other than Japanese and English may be available with a reservation at least 2 days prior to the consulting day (there are no guarantees).
—Oita International Plaza—
☎097-533-4021   ✉in@emo.or.jp