News from the Oita International Plaza
19-08 13:20 2015 
Free Regular Consultations (September)
Oita International Plaza offer FREE consultations for international residents of Oita Prefecture.
◆Chinese Consultation: Every Thursday 10am-1pm
*Legal Consultation: 1pm-4pm on Sunday September 6th and Wednesday September 16th
*Interpretation into languages other than Japanese and English may be available with a reservation at least 2 days prior to the consulting day (there are no guarantees).
—Oita International Plaza—
☎097-533-4021   ✉s_watanabe@emo.or.jp
08-08 13:00 2015 
Event Info: "Happy Talk"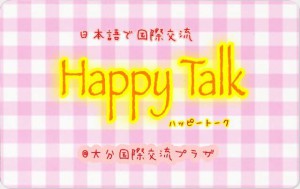 "Happy Talk" is an event held at the OIP.
Next event will be held on Saturday, September 12th 1pm-2:30pm.
Come learn more about other cultures and practice speaking Japanese with other learners and native speakers.
It's OK if you don't speak Japanese fluently♪
Participation fee & reservations are NOT necessary!!
For more details please refer to the facebook

*Oita International Plaza is NOT a sponsor of this event.
31-07 16:58 2015 
August – "Free Tagalog Consultations" cancellations
The free Tagalog Consultations planned for August 1st (Saturday) and August 18th (Tuesday) have been cancelled.
We are sorry for the inconvenience, and kindly ask for your understanding.
On August 19th (Wednesday) there will be a "Free Legal Consultation for Foreign Residents," so please feel free to attend this consultation instead. (If you require consultation in a language other than Japanese or English, please make the appointment at least 2 days in advance.)
24-06 17:10 2015 
July-September 2015 THE TOMBO
The July-September 2015 edition of THE TOMBO is HERE!
To access past issues click HERE!