Introduction of the Oita Prefectural General Consultation Center
Oita Information & Support Center
Background
The workforce shortages in recent years gave rise to the Specified Skilled Worker visa, a new visa type that is issued to foreign workers. With the passing of the 'Comprehensive Measures for Acceptance and Coexistence of Foreign Nationals' at the national cabinet meeting in December 2018, Oita Prefecture has begun making efforts towards creating an inclusive society that accommodates people of all nationalities.
Just like other parts of the nation, there has been an increase in the number of foreign workers in Oita, with figures expected to rise looking forward. The creation of local communities that are foreigner-friendly is a key challenge that we face. The Oita Information & Support Center was established in response to this in order to respond to foreign residents' enquiries and concerns related to daily life, work, and other areas.
Date of establishment
Thursday 27th June, 2020.
Overview
(1) Location: The facility can be found inside the Oita International Plaza of the Oita Prefecture Arts, Culture and Sports Promotion Foundation.
B1F, 2-33 Takasago-machi, Oita City 870-0029
(2)Opening Hours: 10:00~17:00 (excludes Sundays, public holidays, closing days of the iichiko Culture Center and the New Year holidays)
(3)Target languages: Through utilising the multilingual call center, we provide correspondence in 22 languages as follows.
English, Mandarin Chinese, Korean, Thai, Vietnamese, Indonesian, Tagalog, Nepali, Portuguese, Spanish, French, German, Italian, Russian, Malay, Khmer, Burmese, Mongolian, Sihala, Hindi, Bengali, Ukrainian.
(※However, we may not be able to provide correspondence in Ukrainian.)
(4)How to get in touch: Guests may choose to visit the centre directly or have a consultation over the phone.
Aside from our central staff, we also work alongside institutions in local municipalities and professionals, such as public-sector legal consultants, in providing relevant services.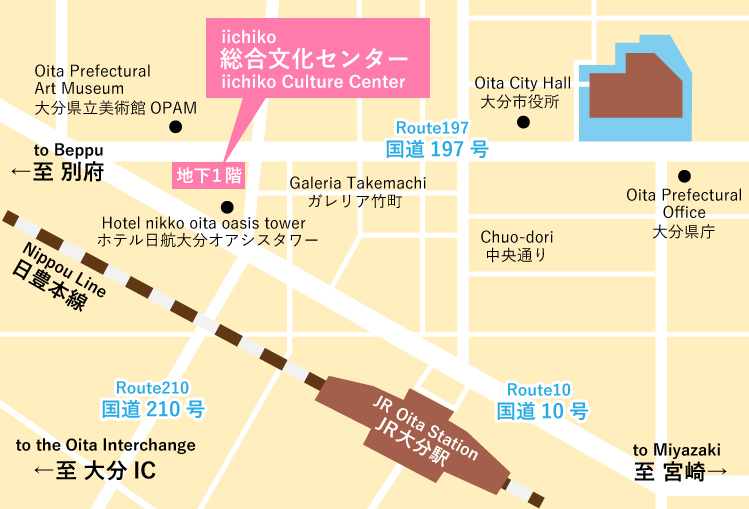 2-33 Takasago-Machi Oita-Shi
Japan 870-0029
Oita Information & Support Center
TEL:097-529-7119