Archive

 The Foreign Language Book Giveaway will take place again this year.
We will be giving away used foreign language books that the Plaza has for free.
Please feel free to stop by.
Date/Time: Sat. March, 10th from 10 AM to 5 PM
Location: Oita International Plaza
Notes: One person may take a maximum of four books. Please bring your own bag.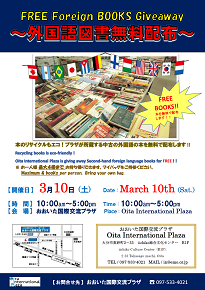 The 89th edition of the Tombo is now available under the "Publication" section.
The 88th edition of the Tombo is now available under the "Publication" section.
We would like to announce the International Understanding Seminar ~ Islam in South-East Asia Edition. You may not be familiar with Islam, but this is an opportunity to familiarize yourself a little bit more with halal foods and more. Come learn about Islam in South-East Asia.
Date: October 22nd 2pm – 4pm
Location: iichiko Culture Center, 4th Floor Midsized Conference Room #2
Participation Fee: Free
(Contact) Himeno or Kobayashi of the Oita International Plaza
Telephone: 097-533-4021
Currently there are 95 registered interpretation and translation volunteers at the Oita International Plaza(speaking a total of 13 languages), and 38 registered Japanese volunteers.
In July, we held a Skill Up Workshop for them.
For our first workshop this year, our lecturer was Atsuko Sugimoto, who is an "Simple Japanese" volunteer and who taught our workshop participants how to use simple Japanese to support foreigners in Japan during times of crisis.
The event took place on 2nd July from 14:00 to 16:50, in a meeting room on the fourth floor of the iichiko Culture Center.
Durig the Work Shop, everyone split into six groups, each group with a mix of Japanese and foreign group members.
They studied large hazard maps laid out on each table, and worked out which emergency shelters people should go to a disaster happen, and so on.
'Safety tips' provides you with Earthquake Early Warning and Tsunami Warning, as well as other useful features that can help you in the event of a disaster. Please download it if you are interested in it!!

Oita prefecture board of education has been published "School Handbook For International Students, Parents and Teachers(Elementary school)".
It has been written in English, Chinese, Tagalog and Spanish.
The contents of handbook are samples of most letters and notifications from school, the list of commonly used words and phrases at school and other useful information.
Please use or tell international students, parents and teachers because this handbook is very useful.
↓↓↓You can download the handbook from the site below.
*You can also download the Japanese version .
http://kyouiku.oita-ed.jp/jinken/2011/12/post-14.html